PROUDLY REMEMBERS OUR PAST!
GONE,
BUT NOT FORGOTTEN
COPPER HILL'S AMTRAK
Trump
Sire: Beaufront's D'Artagnan
Dam:Eliza of Radnorshire
Whelped September 13, 1987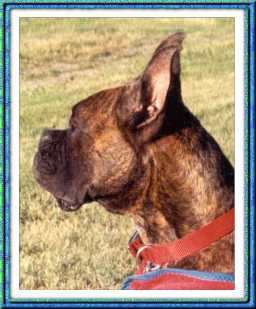 Trump was the love of my life and extremely smart. He knew many verbal commands and hand signals too. He was a fierce watch dog and defended himself if attacked by another dog, but was not one to start a fight, but could always end one quickly as he was a big, powerful, muscular male who tipped the scales at 85 pounds in trim condition. Trump also had outstanding conformation.
He loved children, his cat and the horses next door, who he would touch noses with.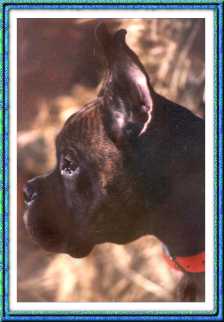 To think I almost lost him when he jumped off a dock into a lake in the very frigid water when he was only about 6 months old. I was ripping off my winter coat and boots and just ready to dive in after him, when he suddenly broke the surface of the water full speed, and swam toward me! I think he was shocked how cold the water was and sank to the bottom and then realised he could not breath. It was his first time in the water and I was scared to death I would lose him and he was drowning.
He was an incredible dog. He turned out to love the water and liked to swim.
I had to have him put down from a cancerous tumor in his spine at almost 10.

Trump is the sire of Cachet's Too Hot to Handle - Louie.
---
Mannix's Merit of Lyndell
Pia


Sire: Crooked Creeks King of Hearts
Dam: MGM's Charo
Whelped: December 25, 2004

Pia was born on Christmas day and died a few weeks before her 8th birthday due to a brain tumor.

Pia was owned and loved by Lisa Herbster and her daughter Meredith in New Hampshire.




Pia as a Puppy


Wasn't she beautiful?


"You talking to me or Dewey?"
---
Cachet's Affirmation
Lola
Sire: Ch Cachet's Mad Max of Turo
Dam: Cachet's Legacy
Whelped: August 26, 1995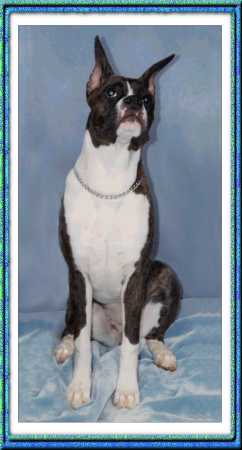 I lost Lola to a kidney infection at 5 years of age. &nbsp She is the dam of Mannix's Inkspot - Lita.

Lola was the only flashy pup from a litter of 3 pups. Her sweet black faced sister Vita is pictured cropped at 14 weeks on my home page and again on the puppy page at the top uncropped at 6 weeks. My adorable Lola can be seen at 6 weeks on the bottom of my puppy page with her 2 litter mates.

Lola was a delight to own, and very sweet. I can still see her running through the back yard leaping up to hang onto tree branches. She would snap them off and go tease the other dogs to play a game of chase me! Lola was my tree pruner and many generations of my Boxers, still follow in her paw prints.

She was smart, outgoing, always busy, just loved to bark and tease and got along well with other dogs. She loved life, and was still wagging her tail, even though very sick, as I held her when she had to be put to sleep due to her failing kidneys.

Her legacy lives on through her 3 1/2 year old daughter Lita-Mannix's Ink Spot, and her new grandson Solo-Mannix's Lone Ranger.

I miss you, my lovely girl!
---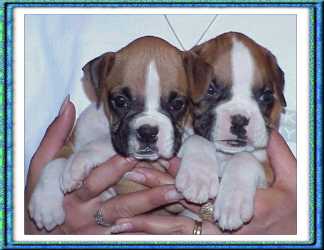 SKEETER
Sire: Ch. Cayman's Black Bart, SOM
Dam: Elyte's Outbacker
Whelped March 2, 2000

The cute puppy on the left is Skeeter, who was Yetta, Cooper and Austin's sister. I lost her to lung cancer this year at age 2 and 1/2. She was the smallest in the litter of 12 sired by Black Bart out of Sydney.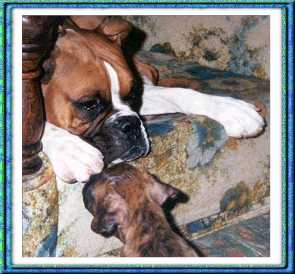 Skeeter was a sweetheart and slept with me every night. She was an excellent house dog and did not get into things.

This is a photo of her grown in her favorite chair.
---
Simon and Seiben

Simon was born in May 1978 and Seiben was born in September 1979.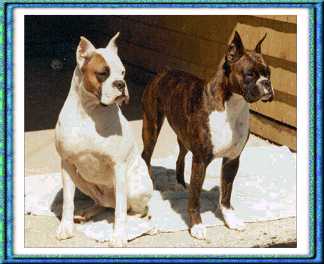 Simon was a white male my ex-husband wanted, so he purchased him for $200.00. I trained him and got his CD. I use to take Simon to nursing homes and do obedience routines and let the people pet and hug him. He was great with wheelchairs and very gentle with the elderly and Babies too. It was so sad going into the nursing homes and the people really looked forward to seeing the dogs and some would cry while hugging and petting the dogs remembering the dogs they use to own. I left there almost in tears at times, knowing how lonely they were.

He was a sweet dog. He died in my arms at 9 1/2.

Seiben is his nephew on his mother's side and was sired by Ch Trefoil's Choir Boy. In the early '80's I showed him in the 6-9 class at ABC and he made the cut!! He never made size so I neutered him and placed him with a nice family.

Tragically their house caught on fire and Seiben ran out straight into the path of a fire truck and was killed instantly. Their son died in the fire, and they lost their much loved boxer. It was very tragic.

---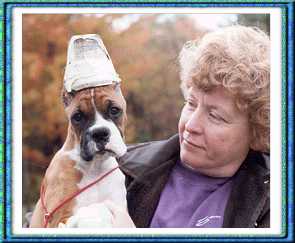 Buemar's Chattanooga Chew Chew
Havoc
Sire: Ch Sam El's Maker Mark
Dam: Ch Braemerwood Joy of Heritage.
Whelped July 25, 1983



This lovely puppy was an Ch Omega's Rockfire granddaughter. She is pictured with Beverly Capstick, one of my mentors holding her when I first got her at 12 weeks at an ABC regional in Kentucky. Bev is a popular all breed judge, accomplished artist and gives seminars on structure and movement. Bev just retired from teaching last year. We co-owned Havoc together in 1984

Havoc died exactly at 2 of lung cancer that took her in 3 weeks, back in 1985. I was heartbroken. She was color flow doplered clear of SAS, OFA excellent for her hips. I got her OFA papers back the day she died.

Bob Forsyth gave Havoc her class in Futurity and his wife Jane Forsyth, gave her 2nd in a class of 18 bitches at the ABC as a puppy. She had 5 points when she died.
BACK TO TOP OF PAGE