PRESENTS
MY FAVOURITE PHOTOS
MORE FAVOURITE PHOTOS HERE >>>
This is my very dear friend Billie McFadden. When her gorgeous old Toby went to the Rainbow Bridge, Billie decided she couldn't live without a Boxer in the house, so Shania came to live in Flemington NJ with Billie and her Frenchy, Dante. Shania was very loved as you can see, both by Billie and Dante!

Shania was the dam of Cisco and Carson from her first litter and Dana and Raven from her second.

Billie later adopted another of my dogs when Shania passed. He was called Evan.
---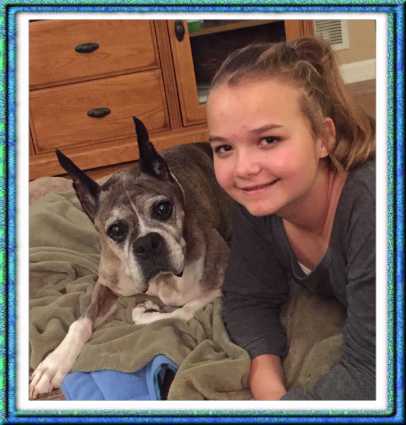 Fiona on her 12th birthday

Fiona is out of Yetta ( Black Bart / Sydney ) daughter by Ch Shadow's Nairobi.
She is owned by Pam and Bob Bober and her 2 beautiful daughters in Ringoes, NJ

See Fiona as a puppy here in 2003

---
Ethan is Suki Slater of MA's boy, and a Glory son.
Suki and Ethan are working on finishing up his CD obedience title and are practising doing some dumb bell work. He is still at the learning phase and thinks his feet can't move with the dumbell in his mouth. Of course, he can fly around with a toy in his mouth! :-))
Etham now has his CD title!
He obtained it at the York County KC of Maine on May 6, 2006.

Mannix Boxers is pleased to introduce...


Mannix's Ethan CD
---
| | |
| --- | --- |
| | This is Ernie, he is a Ethan's litter brother. He is a big mush, not a mean bone in his body and very good with kids . He loves to give and receive hugs and kisses. He still thinks he is a lap dog at 85 pounds. |
---
| | |
| --- | --- |
| This is a photo of Mannix's Hazel. Hazel lived in New Hampshire and was owned and loved by Lisa and Edward Farley and their family. | |
---

Ellen's little girl Laura was sick with strep throat
this day and was cuddling Bella for comfort.






&nbsp
Mannix's Intuition - Bella.

Bella is a full sister to Ch Mannix's Influence, Rumor (from Dasha who was a Wyatt & Abby daughter). Both Bella and Spencer (below) are sired by Ch Shadow's Nairobi. Spencer is Fiona's brother.

Bella and Spencer are owned and loved by Ellen Hoezle, from Middlesex, NJ. Ellen is the president of the Somerset County Dog Obedience Club and trained Bella in obedience.



Bella and Spencer helping to carve pumpkins :-))



I think the above photo is a cute picture of typical nosey Boxers seeing what is going on with that big orange thing Matthew has in his hand.



Bella is now 11 years young!
The photo on the left was taken of Bella in July 2012
Below are photos of Bella with Ellen, and Laura with Spencer taken January 2009
| | |
| --- | --- |
| Laura with Spencer | Ellen and Bella |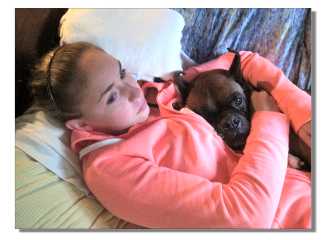 Laura cuddling Spencer in 2012. Laura ia now 16



---
Pamela Shaw George with Madison.

Pamela, who owns Madison's sire, Bogey, had waited a long time for this mating.

This is their first meeting ... it was love at first site!
---
Mugsy's first Christmass.
He is from my Black Bart daughter Lita who only had one puppy on day 70 and never missed a meal or acted like she was going to have a puppy. Especially after the x-ray said no pups and I thought she was in a false pregnancy.
He has quite the mug on him, hence the name. :-)

Mugsy has a wonderful loving home with Rich and his family in NJ. Hailey, his pal, is a very large yellow lab mix and she is very tolerant of this bossy Boxer.
---
This is Monica's father Josh - Ch Gamet's Sure Fire v Goldfield, and her daughters Kira, Baye & Trina's grandfather and Ina, Madison, Emma's & Jeff's Great Granddaddy.

Josh made it possible for them to all be with us. :) Josh is getting very grey & brindle now, he lives in CA with his breeder and my friend Gail Metzer of Gamet Boxers.
---
Kira is a full sister to Ch Mannix's Just Quintessence (Trina ), but from the second breeding. Pretty Kira with her lovely head and conformation had a bit too much white on her to show or breed, she has a wonderful loving home in Ridgewood, NJ.

Can you tell she has had obedience training on a down stay in front of the tulips? Her owners are previous Boxers owners and say their Kira is very intelligent. I told Sarita that Kira was the dominate puppy in the litter that her mother Monica would correct Kira the most.
Kira was very spirited and Monica would correct her and lay on top of her pinning and staring at her. Kira would be picking on a litter mate when Monica would give her a look and head toward her. Kira would know she was in trouble and try "to get outta Dodge", but Mother Monica was much faster. :)

Sarita has spent much time teaching Kira good Boxer behavior and she is her constant companion. I am so pleased to find such good homes for my Boxer kids and I get pictures and progress reports from their owners. That is what I call success as a breeder... when you have made other people happy with a Boxer you have bred as their companion. To me the show wins are just gravy added to the main course of our love for our dogs. The Boxers I sell as pets are just as valuable as their littermates that are show dogs .

At right is Kira at 10 years.

Kira was the last to die in the repeat breding litter of Wyatt/Monika and died at 11 years of a brain tumor
---
This is Luther who lives with Michele and Greg Cottone from PA. He is Yetta & Cooper's brother. They also own one of Glory and Mac's white girls.

They both enjoy playing around this beautiful lake that is close to their home
---
| | |
| --- | --- |
| | Trump and his favourite friend, the Manx cat |
BACK TO TOP OF PAGE