PRESENT
MORE FAVOURITE PHOTOS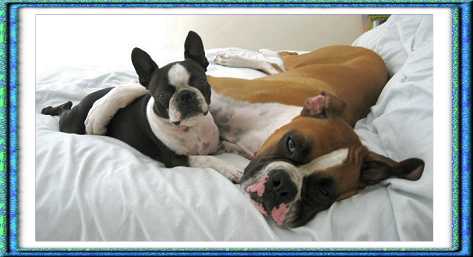 Ethan and Hanzel are owned and loved by Suki Slater of MA. I think this photo is adorable and shows how well Boxers can bond with little dogs too. Ethan is one of Glory's sons and has a leg toward his CD obedience title.
---

Pia and Meredith(13)
Hugging by the seaside.


"All I want is a little bit of the seat please."
Pia (on right) setting off on the way to her new home with Tyler 5 years. They are owned by Meredith, and Lisa and Edward Farley of NH.


"You talking to me or Dewey?"
---
Otto (on the right and below) lives with Phillip Petrino and Warren Stinson and a pretty brindle girl Ophelia! He is from Wyatt's & Shania's litter born July 4th 2004




Photos taken at 11 months

What a beautiful head he has. Look at that chin!
---
Mason with Angelina one of the Regels twins, showing how gentle Boxers can be with small children.
The Regels family live in New York State.
Mason is Fiona and Spencer's brother from Yetta & Bogie born November, 2003.
---
| | |
| --- | --- |
| Linda Sloan owns and loves those white Boxer kids! Dylan (on the left) is 7 month is this photo and Baye is 3 years. Baye is from Monika and Wyatt. Dylan is from Shania & Wyatt | |
---
| | |
| --- | --- |
| Mia sleeping on the stairs | Mia is owned by Joann & Tom Iverson of Barnegat,NJ. She is Delila and Baron's sister. Emma is her dam and she is sired by Ch MGM's Man for all Seasons (Black Bart son). |
A boy and his best friend
Banner and James are the same age at 3. Banner's mother is Lily and her father is Porter a Black Bart grandson.
Matt and nina Capobianco live I Massachusetts. They previously owned another one of my boxer girls named Chloe who lived to an old age.

---
Top of Page
BACK TO ALBUM